·
carplay,
iPhone 15,
iPhone 15 charging,
iPhone 15 USB-C
iPhone 15 Charging, CarPlay, USB-C Car Chargers - What You Need To Know
The 2023 Apple Fall Event has finally taken place, unveiling the Apple Watch S9, Apple Watch Ultra, and the iPhone 15 series, including the iPhone 15, iPhone 15 Plus, iPhone 15 Pro, and iPhone 15 Pro Max. The major change is the transition of all models from Lightning to USB-C ports, with the entire series featuring the versatile Dynamic Island.
While the battery capacity improvements were not explicitly mentioned during the event or on the official website, it is customary for them to be enhanced. In 2023, Apple bid farewell to the Lightning port and introduced the USB-C port in the iPhone 15 series.
The iPhone 15 series also supports MagSafe magnetic charging and is compatible with the Qi-2 protocol. Qi-2 is the next-generation wireless charging technology introduced by the Wireless Power Consortium (WPC), supporting magnetic wireless charging up to 15-watt. Whether it's MagSafe or Qi2, using various magnetic accessories can add considerable convenience to your daily use.
Additionally, the iPhone 15 Pro has upgraded its data transfer interface to support USB 3, with a transmission bandwidth of 10 Gbps. However, the included data cable is a USB 2.0 cable. To support high-speed data transfer, you'll need to additionally purchase a cable that supports USB 3 or USB 4.
For many iPhone users, Carplay is an indispensable driving assistance feature. In the past, iPhone users could connect to Carplay wirelessly or using a wired (via Lightning cable) connection. For owners of cars that support wireless Carplay, your usage remains unaffected, and you can still connect your iPhone  15 to the car wirelessly in the same way as before.
For vehicles that do not support wireless Carplay, if you want to connect your iPhone 15 with the car, you'll need to connect it using a data cable with a USB-C connector. Typically, older vehicle models only provide USB-A ports. In this case, you'll need a USB-A to USB-C data cable, or a USB-A to USB-C adapter along with a USB-C data cable to establish a wired Carplay connection. If your car model happens to come with a USB-C port, you'll only need a data cable with USB-C connectors on both ends to achieve a wired Carplay connection.
USB-C is a superior charging standard due to its faster data transfer speeds, bidirectional power transfer, and universal compatibility. As for charging power, there's no bundled charger, but the official recommendation is to use a charger with 20-watt or higher capacity.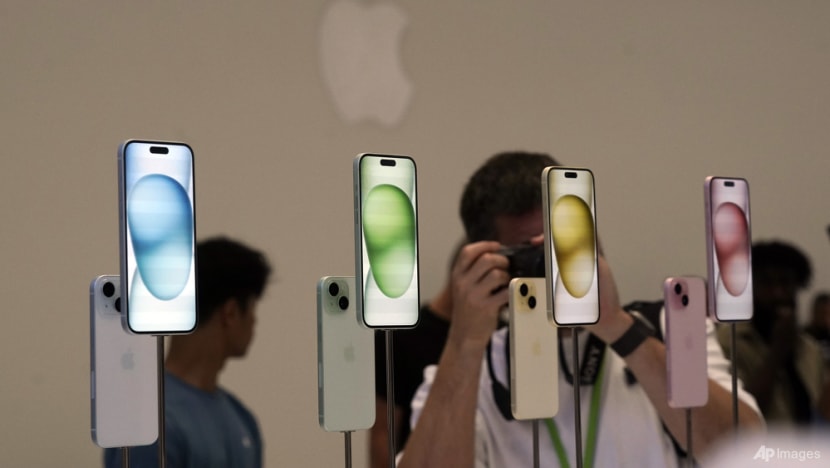 We are aware that starting from the iPhone 14 series, Apple has supported a maximum charging power of 27-watt. In the iPhone 15 series this year, Apple has retained the maximum 27-watt charging power, and there are rumors in the industry that Apple will enhance the maximum charging power to 35-watt for the Pro series. This speculation largely arises from Apple's shift to the USB-C interface, which is known for its higher power and faster capabilities. Moreover, with the increase in smartphone battery capacity, the demand for improved charging efficiency is predictable. Additionally, compared to competitors from other brands, Apple has consistently lagged in charging power, making the boost in charging power a reasonable competitive move.
Here, we would like to recommend a car charger that is best suited for the iPhone 15, and even future proofing for the next iPhone generation. This charger features two USB rapid charging ports, one of which is a USB-C port capable of delivering a maximum charging power of 45-watt (enough to charge your iPhone to nearly 80% in around half an hour). Its output power is substantial enough to even power laptops with USB-C ports.
You may click HERE to check more info about this rapid USB-C charger.
Thank you for reading.