iPhone 12 Series Battery Drain Issue How To Fix It

Battery Capacity Comparison of the Latest iPhone: iPhone 12 Series, iPhone 11 Series and iPhone X Series
iPhone X has Apple A11 bionic processor and iPhone 11 comes with the newer A13 bionic processor. Both these processes are incredibly powerful. One might think that iPhone 11 gives a bit of a speed boost, however, there isn't any noticeable difference in day-to-day usage.
With that said, in terms of battery life, iPhone 11 has more to offer as compared to the iPhone X series. iPhone 11 battery gives up to 17 hours of video playback on a 3110mAh battery whereas the iPhone X only offers up to 13 hours with a 2716mAh battery.  This was a massive improvement on Apple's part. 
Now the iPhone 12 series comes with a more impressive and power-efficient chipset: Apple A14. But, the iPhone 12 and 12 Pro offer a 2815mAh battery capacity which is 10% smaller than the iPhone 11. The battery capacity figure may give you a wrong impression but the smaller battery size is due to shrunken batteries.
What we need to notice here is that Apple is now only supplying USB C to lightning cables with new iPhones. So, the iPhone 12, iPhone 12 Pro, and 12 Pro Max will last you as long as iPhone 11 as USB C is significantly more powered and has a faster-charging speed. 
Thus, with a stronger chipset and USB C to lightning charging port, Apple's iPhone 12 battery is better than both iPhone X and iPhone 11 series.
Let's take a look at the comparison of the battery capacity of iPhone X, iPhone 11, and iPhone 12 line-ups.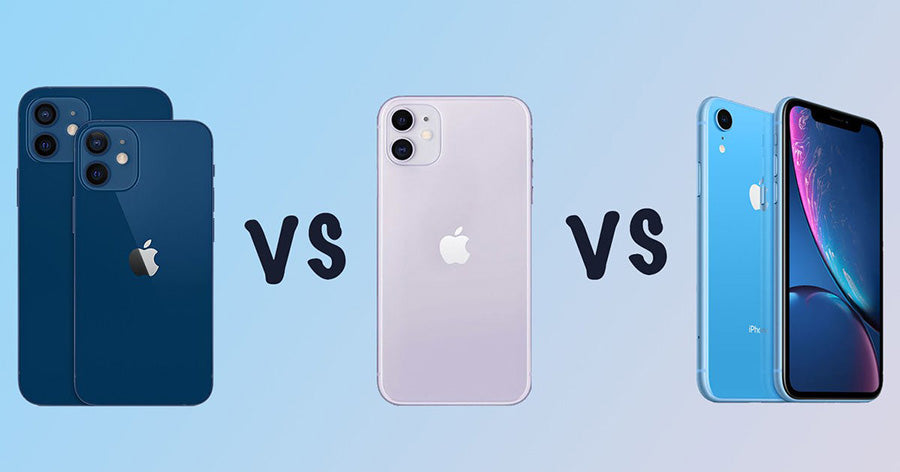 | | | |
| --- | --- | --- |
| iPhone Model | Battery Size | Video Playback |
| iPhone 12 Mini | 2,227 mAh | 15 hours |
| iPhone 12 | 2,815 mAh | 17 hours |
| iPhone 12 Pro | 2,815 mAh | 17 hours |
| iPhone 12 Pro Max | 3,687 mAh | 20 hours |
| iPhone 11 | 3,110 mAh | 17 hours |
| iPhone 11 Pro | 3,046 mAh | 18 hours |
| iPhone 11 Pro Max | 3,969 mAh | 20 hours |
| iPhone X | 2,716mAh | 13 hours |
| iPhone XR | 2,942 mAh | 16 hours |
| iPhone XS | 3,174 mAh | 14 hours |
| iPhone XS Max | 3,179 mAh | 15 hours |
Reason for iPhone 12 Bad Battery Life
Apple claims that the iPhone 12 battery can last for approximately 6 hours and 46 minutes. 
But, if the iPhone 12 series comes with a good battery, why are users facing battery draining issues? Let's dive deeper and find out!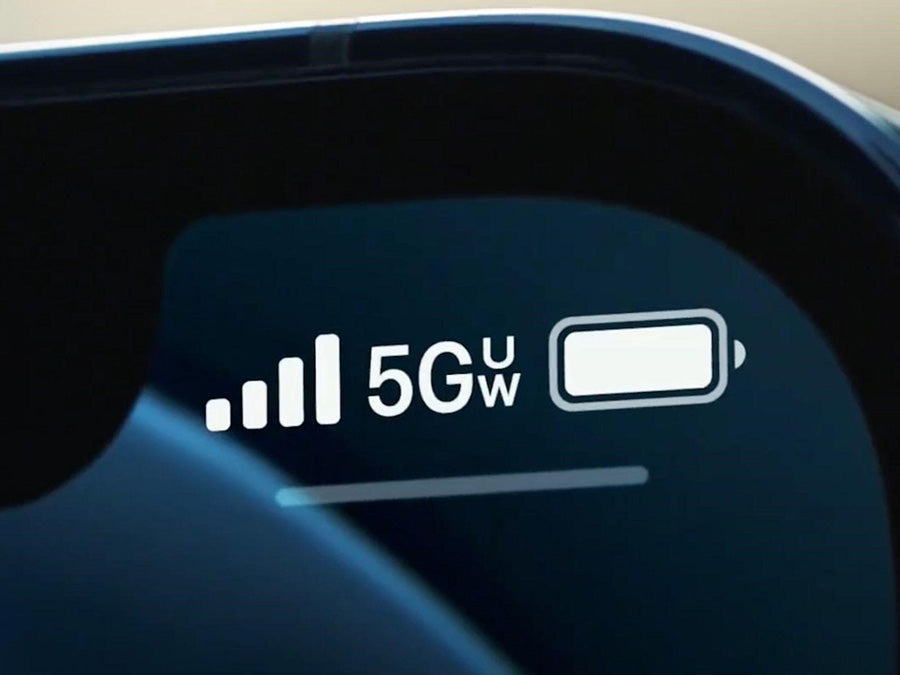 The reason why the iPhone 12 battery drains faster is that it supports 5G connectivity. Being fast could drain your battery much quicker than LTE does. 
However, this is not a major concern as you can take certain steps to reduce the battery consumption of your iPhone 12. 
How to Reduce Battery Consumption of iPhone 12 Series?
For those who are regretting getting the new iPhone 12, you have two options: Either wait for iPhone 13's launch in September 2021 with 2.5 hours more battery life or downgrade to iPhone 11.
But, there's a better option...
Get your money's worth by using these simple tips to improve your iPhone 12's battery life!
1. Get the Latest iOS 14 Update
The battery drainage issues on your iPhone 12 could be because of a buggy build, so install the latest iOS 14 updates to combat that issue. Apple releases bug fixes through a firmware update, so getting the latest software update will fix any bugs!  
2. Turn Off 5G
The iPhone 12 lineup supports 5G, which drains the battery much faster as compared to LTE. One way to save your draining battery is by turning off 5G when you are not using it. To turn off 5G:  - Go to "Settings > Cellular > Cellular Data Options > Voice & Data."- Turn off the 5G option or enable the 5G Auto option.  The 5G Auto option is the default option and does not over drain your battery. However, to maximize the iPhone battery life, we recommend turning off the 5G options if not in use. 

3. Enable Low Power Mode
Every smartphone these days has a low power mode, and so does an iPhone. Enable the low power mode on your iPhone 12 to conserve battery life. You can also shut off Siri, automatic downloads, automatic syncing, and mail fetch. 
The low power mode option is present in the notification menu when you swipe right from the screen. 
Alternatively, you could: 
- Go to "Settings > Control Center > Customize Controls > Low Power Mode" and turn on the toggle.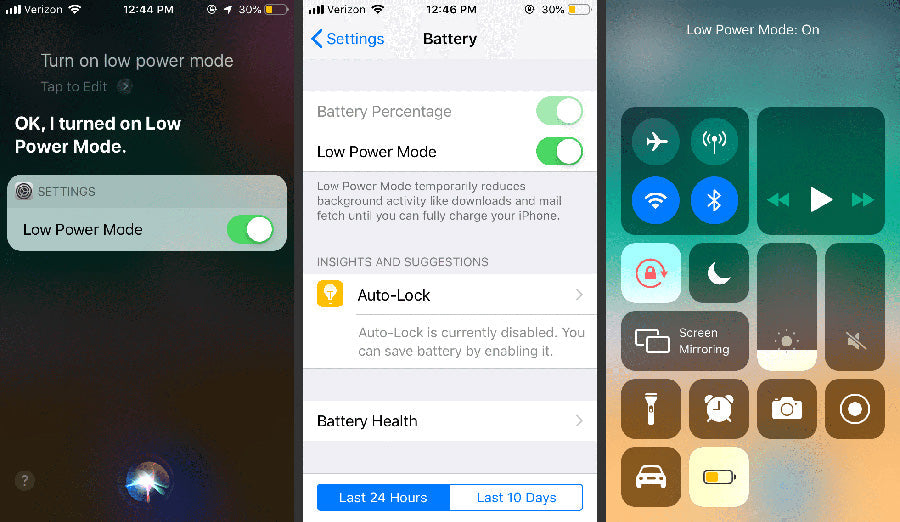 4. Place Your iPhone Facedown
iPhone 12's iOS has a facedown detection feature that uses the ambient light sensor when you place the iPhone facedown to prevent the display from lighting up on a Notification. 
This feature helps increase the battery life by one hour as it turns off the display when not in use. 
Thus, you should always put your iPhone 12 facedown to conserve battery.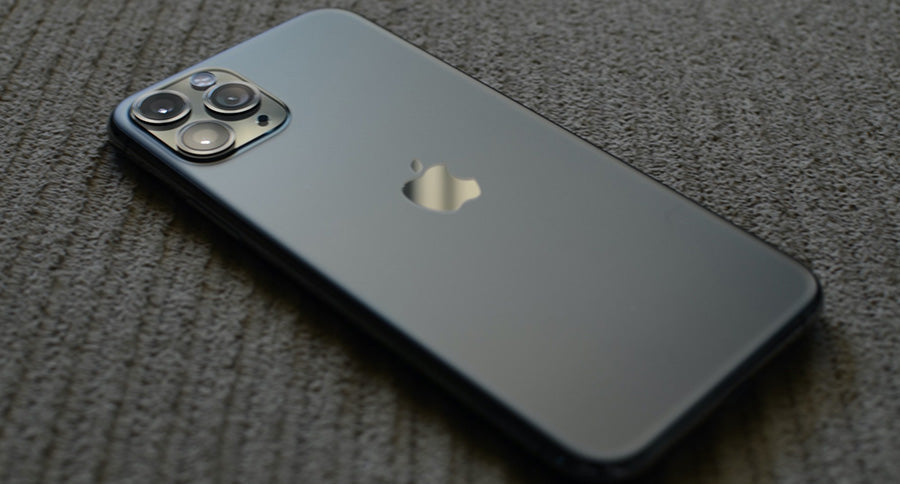 5. Disable Location
GPS is always trying to get your location accurate, so it will constantly keep on updating your location.  Moreover, many apps also require location in the background. In this way, the location uses and drains battery life. So, always turn off the location if you don't need it. 
To turn off location:
- Go to "Settings > Privacy > Location Services" and turn the toggle off.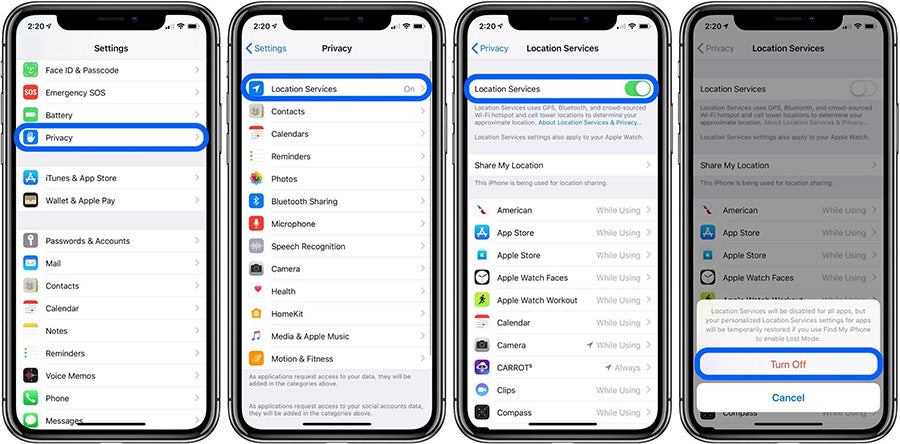 6- iPhone charger:
The time that your iPhone takes to charge and discharge also depend on two charging factors:
How much wattage can your charger supply

How much wattage can your iPhone take.
Let's take the example of the iPhone 12. It can take wattage up to 20 watts. If you charge it with a 5-watt charger, it's gonna take 4 times longer to charge. 
You should use the right charger, otherwise, it might decrease the iPhone's battery life. 
7- Turn On Auto Brightness
You can also save the battery life of your iPhone 12 by turning on the auto-brightness. This feature dims the brightness in the dark and increases it when there's light. 
To turn on auto-brightness:
- Go to "Settings > Accessibility > Display & Text Size" and turn the toggle for auto-brightness on.
8- Turn Off Raise to Wake
Another reason why iPhone 12 battery drains fast is the "Raise to Wake" feature, which lights up your phone when you lift it from a flat surface.  To save battery life, you can turn it off. Here's how: - Go to "Settings > Display and Brightness" and turn the toggle for "Raise to Wake" off.  
 9- Keep the Widgets to the Minimum
The widgets that we add to our iPhone's Today View or Home Screen need the power to stay updated, like the calendar events. That's one reason why the battery drains so fast in iPhone 12. To save battery, keep only those widgets that you really need and get rid of the extras.  To remove widgets from Today View: - Scroll to the bottom of the page and click "Edit."- Now tap on the minus sign on the widgets you want to remove. To remove widgets from the Home Screen: - Long press the screen to enter the Wiggle model.- Tap minus next to the widgets to remove them. 
10- Switch Off Background App Refresh
The apps that we have on our iPhones tend to refresh every now and then to update their content. This also causes your iPhone 12 battery to drain fast.  Turn off the "Background App Refresh" to save battery. - Go to "Settings > General > Background App Refresh."- Next, click on "On" next to it and check "Off" from the given options.
Conclusion
Being the world's most popular and sought-after smartphone line, the iPhone 12 series comes with many great features. However, the iPhone 12 battery drain issue has been bothering many users. Follow the tips mentioned here to save your iPhone 12's battery life as much as you can!
Besides, if you're looking for more information on the iPhone and its features, visit our
blog
.